by Midnight Freemason Contributor
RW Robert H. Johnson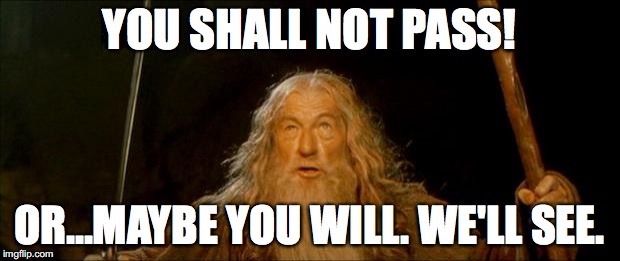 Guarding the West Gate, the practice of being diligent in who we as Freemasons, let into our craft. Much has been written about the practice of investigating candidates. Some Grand Lodges perform background checks, others do not. Some bar a man from entry based on the self-admonition of having a felony, in other cases Grand Lodges make the call based on his background check. And still others, Illinois included, leave the decision solely up to the brothers, even if he has had a felony.
This is all well and good. Barring potential criminals and the like from the entrance of such an auspicious organization as our own, but what about barring someone who just doesn't cut the mustard? What do I mean by that? At the risk of having brothers claim that I am espousing elitist practices, I would like to ask the craft at large, "What is the bare minimum required to join a lodge?" There is no real prerequisite for joining a Masonic lodge today. We are (almost without exception) born free. We are recommended already, otherwise we wouldn't be at the door. Having a "good report" usually goes along with the recommendation and the result of the investigation committee who has already reported, otherwise you wouldn't be at the door. You are a man. It's more about who you know than qualifications, so it would seem.
But before we get to this, a recent conversation I had seemed to set my mind aloft with thoughts about the realistic chance of someone not being "Masonic material". As we stand today there is, realistically speaking, no chance of anyone ever really not being able to join. Yes, an atheist, a woman etc. etc. But the regular guy next to you? What's stopping him? Nothing, save for the brothers' acceptance.
Do we not want brothers to be of service to the lodge? Do we want them to understand that we are a philosophical society first and that charity, necessarily, is a byproduct of the teachings of Masonry? Are we certain they know that Freemasonry is not just a social club, and further that joining for purely social endeavors should be frowned upon? Do we want them to know and realize that we make good men better, not just from hanging out with men of good character but through internal work?
What can we do then to ensure that the men who knock on our doors not only meet the requirements but also exceed them? What can we do to make sure that they will indeed learn a lecture, and understand it as they perform it? What can we do to establish a mindset of perpetual heightened self governance and betterment? Lodges around the world have continued the process of honestly vetting their potential members. Some lodges, taking up to six years to become a Master Mason. Why though? I'd be willing to bet that those men who make the grade of Master Mason probably remain active. They rarely miss a meeting--they've got too much time invested not to go.
Perhaps the key is to establish not just a system of knowing a man, but to have candidates for Masonry have some skin in the game, not just money, but perhaps a six month requirement of attendance, learning and writing projects. Perhaps then we may flush out those who might not make the cut, but also, amongst the others who continue, establish a solid foundation of Masonic knowledge. We also may find that candidates who at the beginning, may not have been "Masonic material", at the end, are enlightened to our concepts.
Being a Freemason is serious business. A blog post from Braden Lodge No. 166 was published in April of 2014 and is titled, "Why You Shouldn't Become a Freemason" and you can read it
HERE
. In it, Bro. Gallagher outlines a series of misconceptions about the craft, what you're looking for and what you should join instead of Freemasonry. Business contacts -- The Rotary. Pancake Breakfasts -- The Lions. Social clubs -- The Elks or Moose.
The point is, we need to understand that just because a man passes the criteria of generally being an okay guy, that doesn't qualify him for membership. Whilst our brothers continue to let in men based solely on good character alone, we struggle to maintain our identity as a philosophical school, teaching men those age old truths to which the higher minded are necessarily beckoned towards. We are flooding the market with warm bodies instead of active minds. We are lowering our status quo as the preeminent organization to which uncounted men have promoted and encouraged its interests based on the moral and intellectual attainments of the members.
Brothers, guarding the West Gate is more than a background check or knowing the moral fiber of a man as being exemplary. It is owning to the fact that we should not be satisfied with letting the drone of nature, the useless member of society admission through the porch of our hive. We are the best and should expect nothing less. The truth of our existence and our mission to leave this world better than we found it is at stake.
~RHJ
RWB, Robert Johnson
is the Managing Editor of the Midnight Freemasons blog. He is a Freemason out of the 1st N.E. District of Illinois. He currently serves as the Secretary of Waukegan Lodge No. 78 where he is a Past Master. He also serves as the District Deputy for the 1st N.E. District of Illinois. Brother Johnson currently produces and hosts weekly Podcasts (internet radio programs)
Whence Came You?
&
Masonic Radio Theatre
which focus on topics relating to Freemasonry. He is also a co-host of
The Masonic Roundtable
, a Masonic talk show. He is a husband and father of four, works full time in the executive medical industry and is also an avid home brewer. He is currently working on a book of Masonic essays and one on Occult Anatomy to be released soon.