by Midnight Freemason Contributor
Steven L. Harrison, 33°, FMLR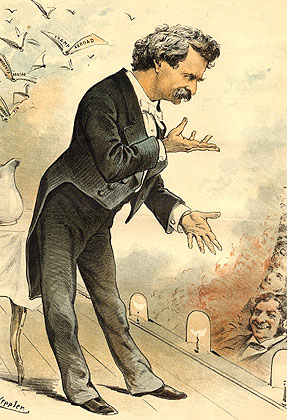 "
It's no coincidence George Hamilton loves the sun. They were born in the same year. The difference is the sun is actually a star.
" ~Lisa Lampanelli
"
What's with all the surgery, Kathy (Griffin)? You've been stitched up thousands of times but you're still sad to look at. You're like the AIDS quilt
." ~Greg Giraldo
"
Justin's fans are called Beliebers because it's politically incorrect to use the word retards
." ~Natasha Legerro
"
My good friend Snoop Dogg said Jeff Ross' book was unreadable, but that's because Snoop can't read
." ~Larry King
"
Bill (Shatner), you were supposed to explore the galaxy, not fill it
"- Betty White
Don't you just love a good roast? You know they're those events where people get up and destroy their friends in what is allegedly good-natured fun.
Modern comedy roasts date back to the Friar's Club events of the late 1940s and have progressed (if you can call it progress) to today's televised productions that seemingly make a science of mean-spirited nastiness.
What may be the original comedy roast, however, dates well before the Friars thought of presenting organized evenings of vitriol. That honor goes to a gala event the Atlantic Monthly held in Boston the evening of December 17, 1877, celebrating poet John Greenleaf Whittier's 70th birthday.
People today revere Brother Mark Twain as an American treasure. During his lifetime he was in demand as a speaker and it seemed no one was more well-suited to deliver the keynote address on that auspicious occasion.
Ever the mischievous humorist, Twain decided to go over-the-top and take a few friendly jabs at some of the impressive guests in attendance, specifically Henry Wadsdworth Longfellow, Ralph Waldo Emerson and Oliver Wendell Holmes, Sr.
He launched into a story about stumbling upon a miner's shack. The miner told him, "You're the fourth... literary man that has been here in twenty-four hours — I'm going to move. [The others were] Mr. Longfellow, Mr. Emerson, and Mr. Oliver Wendell Holmes — confound the lot!"
"
Mr. Emerson was a seedy little bit of a chap, red-headed. Mr. Holmes was as fat as a balloon; he weighed as much as three hundred, and had double chins all the way down to his stomach. Mr. Longfellow was built like a prize-fighter. His head was cropped and bristly, like as if he had a wig made of hair-brushes. His nose lay straight down his face, like a finger with the end joint tilted up. They had been drinking, I could see that. And what queer talk they used…
"
…And on and on it went. Expecting laughter by this point, Twain found himself speaking to a hushed crowd.*
Writing about the event later, Twain said he knew things weren't right, "Now, then, the house's attention continued, but the expression of interest in the faces turned to a sort of black frost. I wondered what the trouble was. I didn't know. I went on, but with difficulty… In the end, I didn't know enough just to give up and sit down."
Following the speech, newspapers across the country erupted with stories of Twain's rude remarks and bad taste. His book sales dropped off as did, understandably, invitations to speak.
Today we think of Brother Samuel Clemens in his Mark Twain persona as having had the "Midas Touch" when it came to writing, a sense of humor and popularity. It was not so. At the time of the speech, Twain was in some degree of financial distress, and counted on speaking fees and book sales to carry him through. After what author William Dean Howells called "the amazing mistake, the bewildering blunder, the cruel catastrophe" Twain had trouble making ends meet. With no prospect of financial success in the US, he was forced to undertake a grueling European speaking tour.
Twain never completely recovered — financially or emotionally — from his faux pas. Near the end of his life, he wrote about it in an apologetic letter to a friend, "It seems as if I must have been insane when I wrote that speech and saw no harm in it, no disrespect toward those men whom I reverenced so much."
Maybe Brother Twain was just ahead of his time; or maybe we today have become a little too desensitized to what was one time regarded as rude.
____________________________
*Although at the end of the speech Twain called the men in the story representing Emerson, Holmes and Longfellow "imposters," it was a question of too-little-too-late. The full text of the speech is available at
http://bit.ly/2ibRsU7
~SLH
Bro. Steve Harrison, 33°
is Past Master of Liberty Lodge #31, Liberty, Missouri. He is the editor of the Missouri Freemason magazine, author of the book Freemasonry Crosses the Mississippi, a Fellow of the Missouri Lodge of Research and also its Worshipful Master. He is a dual member of Kearney Lodge #311, St. Joseph Missouri Valley of the Scottish Rite, Liberty York Rite, Moila Shrine and a member and Past Dean of the DeMolay Legion of Honor. Brother Harrison is a regular contributor to the Midnight Freemasons blog as well as several other Masonic publications. His latest book, Freemasons: Tales From the Craft & Freemasons at Oak Island. Both are available on
amazon.com
.