by Midnight Freemason Contributor
RW Robert H. Johnson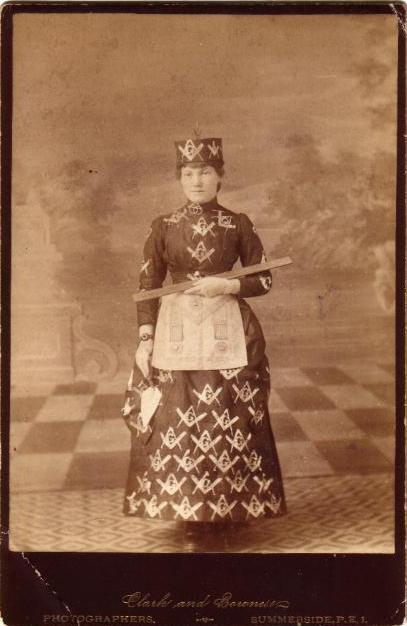 This early cabinet card depicts a woman dressed in Masonic regalia and holding her working tools. Image courtesy of Phoenixmasonry.org
We're all familiar with the Order of the Eastern Star. Some love it, some hate it. Whatever your feelings are I couldn't hep but think about it and the way it operates when reading a section of the Lexicon of Freemasonry by Albert Mackey. In a section labeled, "Adoptive Masonry", Mackey outlines the Rite of Adoption, a system born in France, under the Grand Orient.
The interesting facts are many, but here are just a few for your edification--Regular lodges would adopt a lodge of women. The women's lodge would operate as a kind of arm to the parent regular lodge. It conferred four degrees consisting of; Apprentice, Companion, Mistress and Perfect Mistress. An interesting side note is that their degrees carry much of the flavor of our original 3rd degree, not the Hiramic legend, but that of the Noachite legend. If you're unfamiliar of the original 3rd degree, I can tell you it's all about Noah and his sons. It's pretty cool. I digress.
A Master Mason of the regular lodge had to be present for the body to operate, however the man could not hold the presiding office, rather that was the duty of the Grand Mistress. Much more can be read on the topic and I invite you do just that. You can click
HERE
to open a PDF copy of the Lexicon. Once open simply search the PDF for "Adoptive Masonry" and read the 5 page entry.
So did the OES come out of the French Rite of Adoption? Did OES pull its requirements from this system? Leave a note below and lets talk!
~RHJ
RWB, Robert Johnson
is the Managing Editor of the Midnight Freemasons blog. He is a Freemason out of the 1st N.E. District of Illinois. He currently serves as the Secretary of Waukegan Lodge No. 78 where he is a Past Master. He also serves as the District Deputy for the 1st N.E. District of Illinois. Brother Johnson currently produces and hosts weekly Podcasts (internet radio programs)
Whence Came You?
&
Masonic Radio Theatre
which focus on topics relating to Freemasonry. He is also a co-host of
The Masonic Roundtable
, a Masonic talk show. He is a husband and father of four, works full time in the executive medical industry and is also an avid home brewer. He is currently working on a book of Masonic essays and one on Occult Anatomy to be released soon.